The city of Florence is preparing to welcome a great event from 23 to 27 February. In the name of the mayor-saint Giorgio La Pira, the city will host the "Mediterranean frontier of peace" conference, promoted by the Italian Episcopal Conference, and the "Florence Mediterranean Mayors? Forum", summoned by the mayor of Florence Dario Nardella.
The conference "Mediterranean frontier of peace" and the "Florence Mediterranean Mayors' Forum" will see the presence of a delegation composed of 60 bishops and 60 mayors from almost all the countries bordering the Mare Nostrum, as well as guests of international importance. This will see the participation of the President of the Republic Sergio Mattarella, the President of the Council Mario Draghi and Pope Francis.
Nel contesto di questo evento Good World Citizen ha organizzato, nella sede del Comune a Palazzo Vecchio, una conferenza su due importanti intellettuali: Ibn Khaldun e Machiavelli In questo incontro sono stati discussi e confrontati i loro pensieri e le loro opere più importanti. I due studiosi, sebbene lontani nel tempo e nello spazio, hanno molte somiglianze. Entrambi vissero in periodi storici complicati, pieni di conflitti. Ambedue, in qualità di funzionari politici, vennero a conoscenza della realtà dei fatti e furono tra i primi nel loro tempo a mettere in pratica il moderno metodo scientifico di analisi della società e dei fatti storici.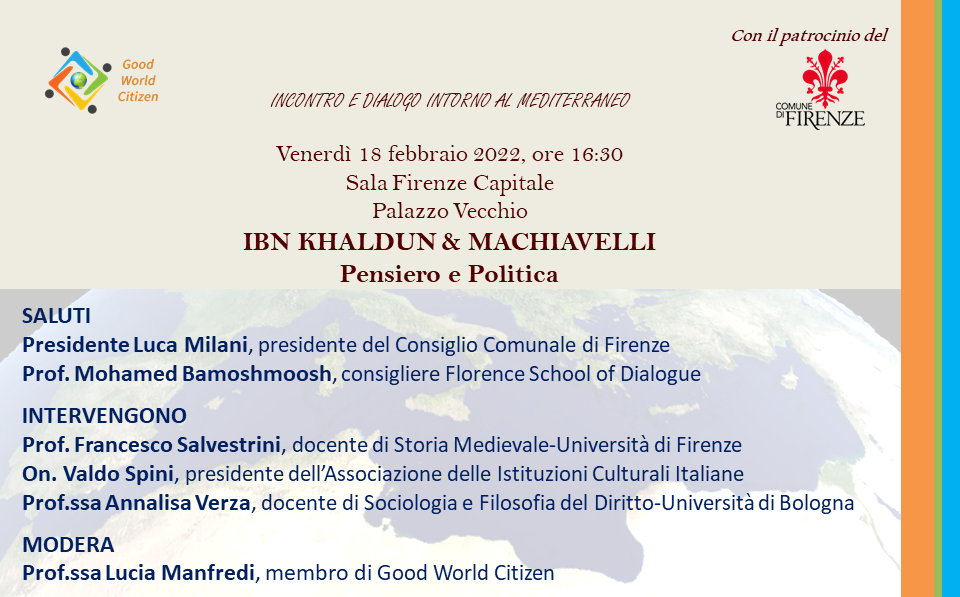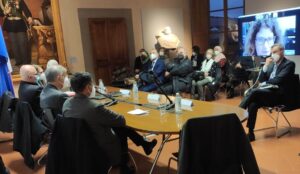 I relatori al convegno sono stati Francesco Salvestrini, docente di Storia Medievale all'Università di Firenze, Valdo Spini presidente dell'Associazione delle Istituzioni Culturali Italiane, Annalisa Verza, professoressa di Filosofia e Sociologia del Diritto all'Università di Bologna. I saluti sono stati del presidente del Consiglio Comunale di Firenze Luca Milani e da Mohamed Bamoshmoosh consigliere della Florence School of Dialogue. L'incontro è stato moderato da Lucia Manfredi docente di Lettere classiche e membro del GWC.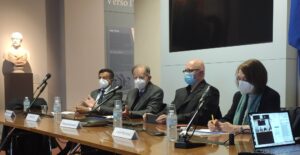 The Mediterranean Sea has been for centuries a crossroad between Western and Eastern civilizations, between the North and the South of the world. The aim of these events is to relaunch interest in the Mediterranean area, through dialogue between its main cities and cultures, favoring and promoting actions for cooperation and peace.