Florence is renowned for its Renaissance cultural heritage. What is less known is the fact that the city is characterized by an extraordinarily rich and plural religious life. Along side the Christians Churches, Jews, Muslims, Buddhists, Hindus and other religious minorities call Florence their home.
The presence of these minorities enriches the society but also poses the important question of equality and inclusion which play an important role in promoting political and social stability and peace. There is a need for a better understanding of the causes of discrimination against minorities in order to put in place effective policies and practices.
Therefor the creation of tools and skills is of fundamental importance in order to contrast prejudice and to promote social inclusion for the benefit of the society as a whole. It is necessary to implement actions and initiatives that are can be effective strategies for social cohesion, equality and non-discrimination.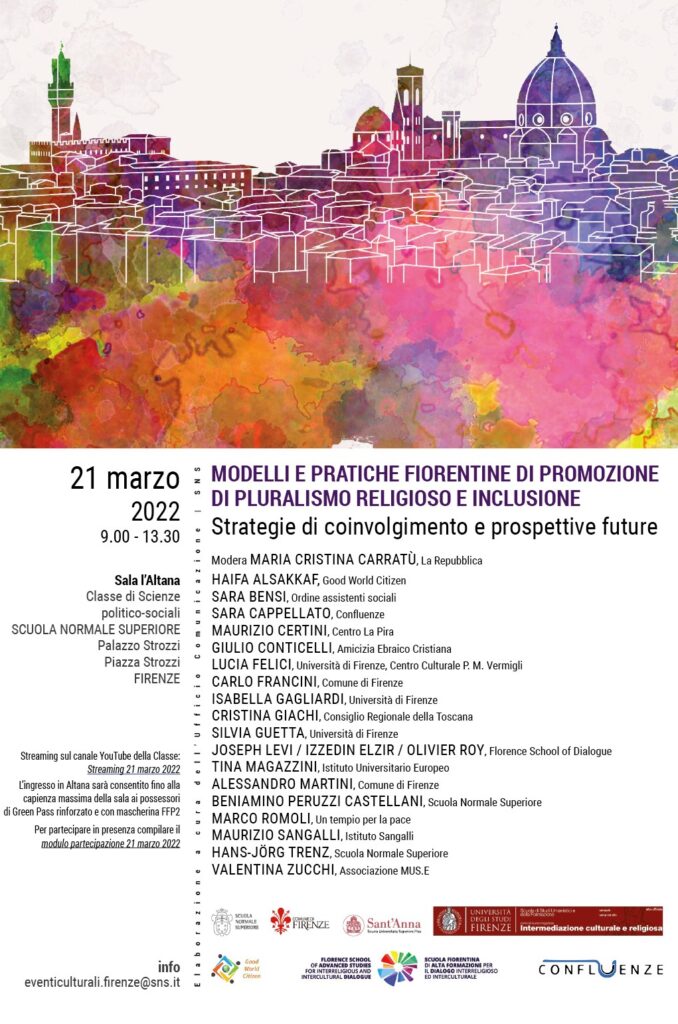 Good World Citizen is participating in a conference organized by Scuola Normale Superiore and Scuola Superiore Sant'Anna along with Associazione Confluenze. Institutions such as the University of Florence, European University Institute and the Municipality of Florence will also take part. Also participating are the Florence School of Dialogue and a number of organizations that operate in the area of intercultural and interreligious dialogue.
This conference aims to determine the future prospects in Florence regarding the promotion of religious pluralism and the inclusion of religious minorities. That will be done, first of all, through the voices of those who already operate this sense in Florence. They will present the main models and best practices that until now have been carried out in the Florentine context. Particolar attention will be given to skill building and training and also to the future generation of citizens.
The final proposition of the conference is that of establishing a coordination that can facilitate dialogue, cooperation and the exchange of knowledge, methodologies and good practices between the various actors who work in the field of promoting religious pluralism and inclusion.