The city of Florence is preparing to welcome a great event from 23 to 27 February. In the name of the mayor-saint Giorgio La Pira, the city will host the "Mediterranean frontier of peace" conference, promoted by the Italian Episcopal Conference, and the "Florence Mediterranean Mayors' Forum", summoned by the mayor of Florence Dario Nardella.
The conference "Mediterranean frontier of peace" and the "Florence Mediterranean Mayors' Forum" will see the presence of a delegation composed of 60 bishops and 60 mayors from almost all the countries bordering the Mare Nostrum, as well as guests of international importance. This will see the participation of the President of the Republic Sergio Mattarella, the President of the Council Mario Draghi and Pope Francis.
In the context of these events Good World Citizen has organized in the City Hall-Palazzo Vecchio, a conference about two important scholars: Ibn Khaldun and Machiavelli. The two intellectuals, although far in time and space, have many similarities. Both of them lived in complicated historical periods, full of conflicts and both. As political officials, they came to know the reality of the facts and were among the first in their time to put into practice the modern scientific method of analyzing society and factual historical facts. In this meeting the thoughts and most notable works of Ibn Khaldun and Machiavelli were discussed and compared.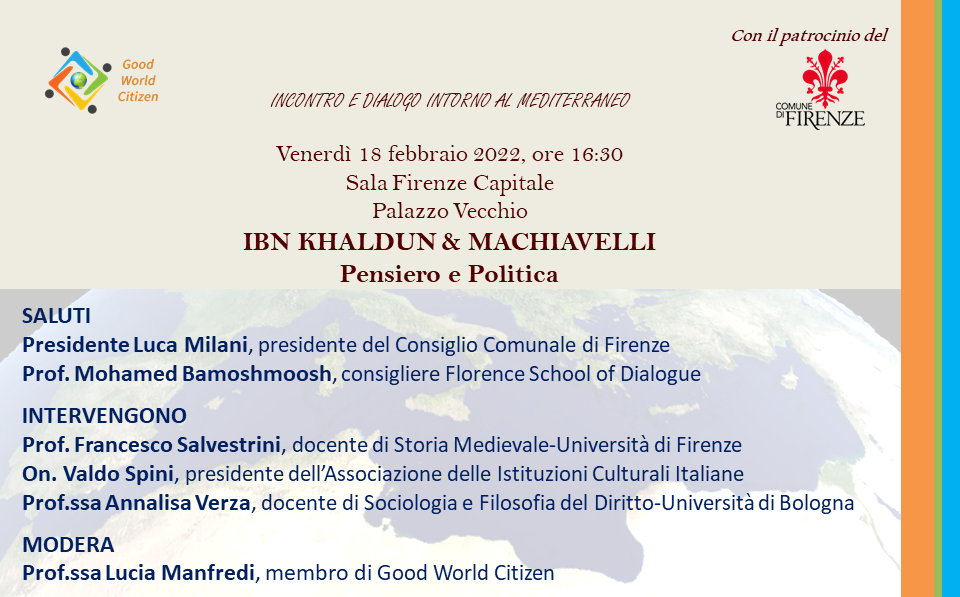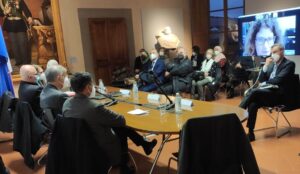 The speakers at the conference where Francesco Salvestrini, professor of Medieval History at the University of Florence, Valdo Spini president of the Association of Cultural Italian Insitutions, Annalisa Verza, professore of Philosophy and Sociology of Law at the University of Bologna. The initial greetings were made by the president of the City Council of Florence Luca Milani and Mohamed Bamoshmoosh advisor of the Florence School of Dialogue. The encounter was moderated by Lucia Manfredi professor of Classical Literature and member of GWC.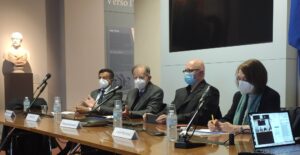 The Mediterranean Sea has been for centuries a crossroad between Western and Eastern civilizations, between the North and the South of the world. The aim of these events is to relaunch interest in the Mediterranean area, through dialogue between its main cities and cultures, favoring and promoting actions for cooperation and peace.